Our beef cattle are raised on pasture and 100% of their diet is grass.  We rotate them through fresh pasture on a daily basis. We do not spray our pastures with chemicals or synthetic fertilizers and we do not treat our cattle with chemical dewormers or fly control. We purchase the cattle as stockers in the spring, when they are about a year old and raise them to finish weight. The farmers we purchase our stockers from also raise their herds on 100% grass, rotate them through pasture in the growing season and feed hay during the winter.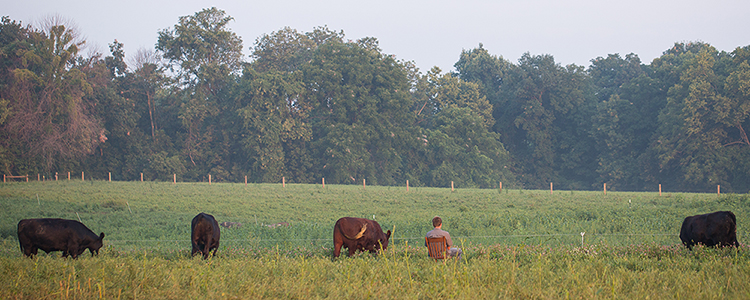 Order Your Grass-fed Beef
Beef is now available to purchase for the Summer and Fall of 2017

Available in whole, halves, and quarters. Reserve your beef by filling out the standard beef order form and sending us a deposit.  Checks and forms are payable and mailed to Tyler Neff at 117 Essex St. Marietta, Pa 17547.
You may opt to have your beef cut differently than what is listed in our standard beef order form for $30 per quarter beef (this increases our butcher fees and book work). Use the customized beef order form and send it with your deposit.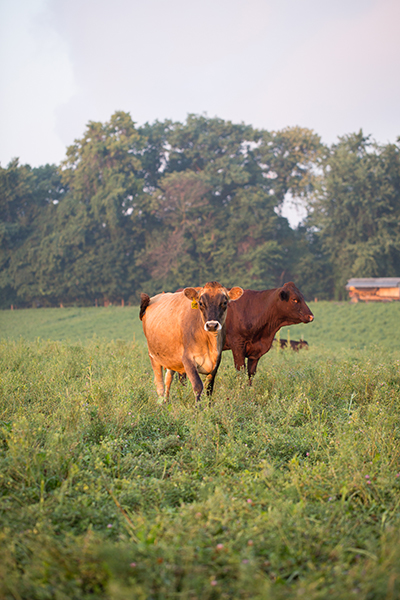 Contact us with your questions and beef reservations.
Whole beef: $6.95/lb

estimated 430lb of retail cuts for a total of $2,988
deposit check of $700
Half beef: $7.25/lb

estimated 215lb of retail cuts for a total of $1,558
deposit check of $400.
Quarter beef: $7.50/lb

estimated 107lb of retail cuts for a total of $829
deposit check of $250.
1/8  Beef: $7.75/lb

estimated 50lb of retail cuts for a total of $385
deposit check of 150
1/16 Beef: $8.00/lb

estimated 25lb of retail cuts for a total of $200
deposit check of $100
Want to buy beef by the cut?
                Follow this link for prices and availability
Our animals are processed by Smucker's Meats. Smucker's is a USDA certified facility, and process nitrate free. When your order is ready, you will pick it up at Smucker's Meats, located in Mount Joy, PA, or we can deliver it to you for $2.50/mile (one way). The balance of your bill is due at time of pick up or delivery.
Our Cattle Breed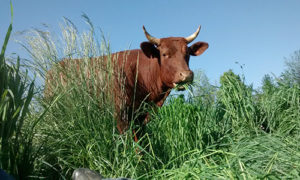 The cattle breeds we raise here at Mirror Image Farms are a combination of Black Angus and Red Devon.   Both come from excellent herds.  We have plans of breeding back three of the heifers in our current group to be the foundation mothers for our future cow-calf herd.   Joins us on our journey of developing our herd while using their animal impact to develop and restore our lands.
Importance of Rotating Pastures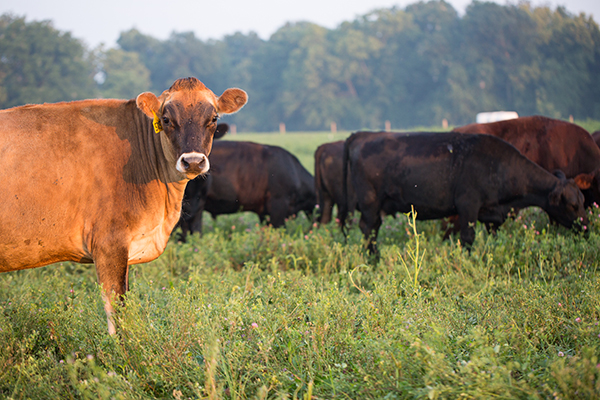 It's important to rotate animals often on pasture.
The movement of animals from one pasture to the next, allows a pasture to rest and regrow after being grazed and trampled. This produces the effect of bruising the land followed by rest periods which is beneficial for the land and animals and overall helps build a stable and healthy ecosystem.
The hoof action of a heavy animal helps to trod leftover grass stalks and manure into the ground surface, where it decomposes more easily. Any seeds are trampled into the ground also, planting them. Rotational grazing, creating this pulsing effect, parallels the movement of the great buffalo herds which created the deep, nutrient-rich topsoils of the Mid-western United States.