Our poultry are pastured and fed organic grain. We rotate them onto fresh pasture daily. Our pastures are not sprayed with chemicals or synthetic fertilizers and we do not treat our poultry with chemicals or antibiotics.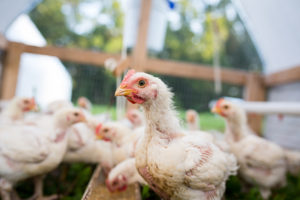 We'll be raising four flocks of broilers throughout the summer of 2018.  Our flock of turkeys will be ready in November (Thanksgiving!). Please pre-order to secure chicken or turkey.
The broilers and turkeys will be butchered and processed on-site, which includes the meat being shrink-wrapped. They are fresh, if pick-up butcher day, and sold frozen after that.
Order Your Pastured Poultry
Broilers Fresh
Bulk Order – Whole & Fresh, 10 chicken minimum:  $4.65/lb

Must order in advance of butcher day.   Contact us for butcher dates and pick up location.
Broilers Frozen
4-5lb/broiler, whole bird: $4.95/lb
Boneless/skinless chicken breast 2 pack: $8.50/lb
Leg & Thigh 2 pack: $6.25/lb
Wings 6-8 pack: $4.50/lb
Rib cages, (great for soups and making broth): $3.00/lb
Whole bird cut up: $5.75/lb

Includes Boneless skinless breast, leg & thigh + leftover rib cages for making soups and broth.   All packaged separately.

Organs & Such:

Hearts, 2lb/pack: $3.75/lb
Livers, 2 lb/pack: $3.00/lb
Gizzards Unpeeled, (Order in advance for pickup on butcher day):  $2.50/lb
Feet, 10-20/pack: $3.00/lb
Pick-up in Marietta, PA (Delivery available for $2.50/mile one-way. Consider ordering your poultry in conjunction with pork or beef)
Approximately 16 lb/turkey
Will be ready mid-November, in time for Thanksgiving.
Pick-up in Bainbridge, PA (Delivery available for $2.50/mile one-way. Consider ordering your poultry in conjunction with pork or beef)
Order by

July 15
When you are ready to order your poultry, send us an email including the following information:
Number of broilers
How many would you like whole, and how many cut up
Number of turkeys
Would you like to pick up your order, or have it delivered
Your name and phone number
Feel free to Contact us with your questions, and as you begin ordering with us.
Pastured Poultry and Multi-Species Grazing
We manage illness and disease prevention through nutrition and maintaining a low-stress environment.
Raising the poultry on pasture makes for healthy chickens and turkeys, as it allows for constant clean and fresh forage for them to scratch around in and graze on, and disrupts chances for parasites and disease buildup. The fresh pasture not only provides clean, fresh air and less stress, but furnishes a variety of plant species with medicinal qualities for the chickens and turkeys to eat.
We rotate our poultry on a pasture after our cattle have grazed through it. This provides multiple practical benefits. One benefit is that the grass is short and easier to move along our open-bottomed shelters every day. Another benefit is that the poultry will scratch open the cow pies that the cattle have left behind, and eat worms and insects that they find in them. (Chickens and turkeys are not solely herbivores!) This scratching helps to disperse the valuable nutrients in the cow manure fertilizer as it begins to decompose. It also disrupts the egg laying and reproductive cycle of flies and other harmful pests. We've seen a decrease of flies in our summer cattle herd when we began to incorporate poultry into our grazing matrix.