The pigs are raised on pasture and 25% or so of their diet is grass.
We feed our hogs soy-free, non-GMO, (organic transition) grains. They also get seasonal produce, as it's available.   Our new farm location has a variety of of woodland & pasture settings with a significant beechnut grove and various other nut trees like oaks and hickories for the pigs to munch on.   It's a smorgasbord.
Order Pasture Pork
Pork is available to purchase as whole or half hog packages.
Whole Hog: $7.25/lb

estimated 136 lb of retail cuts for a total of $986
deposit check of $250
Half Hog: $7.50/lb

estimated 68 lb of retail cuts for a total of $510
deposit check of $150
Quarter Hog: $7.75/lb

estimated 33 lb of retail cuts for a total of $264
deposit check of $150
Our pigs process through Smucker's Meats, located in Mt. Joy, PA. They are USDA certified, and process nitrate free if desired.
Want to buy pork by the cut?
We also offer:
How We Manage Our Pigs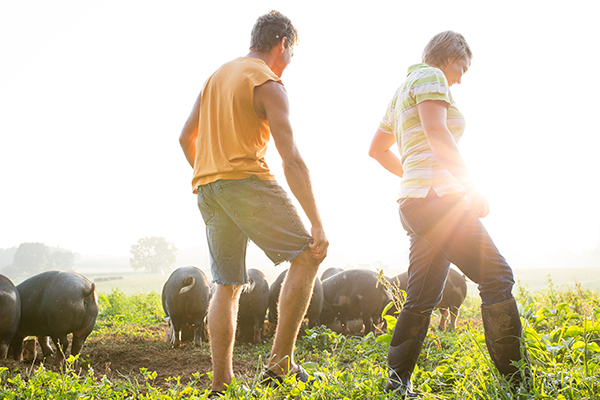 We manage illness and disease prevention through nutrition and maintaining a low-stress environment.
Raising the pigs on pasture makes for a healthy pig, as it allows for constant clean and fresh forage for them to graze on and disrupts chances for parasites and disease buildup. The open pasture not only provides clean, fresh air and less stress but furnishes a variety of plant species with medicinal qualities for the pigs to eat.
We incorporate garlic and black walnut hull powder into the pigs' diet, which are natural de-wormers, and use diatomaceous earth and aloe to treat skin issues.
All this results in clean, healthy, and happy pigs, which require little or no medical intervention.
Antibiotics are never used for preventative maintenance and are used only in the rare case of a pig in crisis that needs antibiotic intervention. In the uncommon situation that antibiotics are used on a pig, that pig is marked and sold as such.
About Our Pigs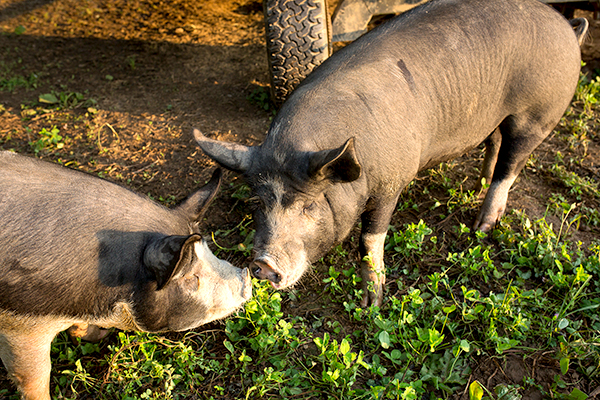 The main breed of hogs here at Mirror Image Farms, is the Idaho Pastured Pig.
The Idaho Pastured Pig is a cross between the Berkshire, Duroc and Kunekune. This combination of heritage genetics makes for a great midsize hog with a shorter snout and lower profile, while still maintaining a relatively fast weight gain on a grass-based diet.
The Idaho Pasture Pig reaches 250lb live weight on forage and grain in 6-8 months. We've experimented with other breeds, and like the Idaho Pastured Pig because of it's mild temperament, foraging abilities, and quality meat.
Our breeder stock currently includes 5 sows. We breed our own sows and raise the piglets ourselves.